Crikey! This doesn't happen very often. A reduced price on art
prints
, yes that happens. But a reduced price on
original artwork
? Now that's a rarity.
If you've been yearning for some original artwork to invest in, or to simply beautify your walls
- this is your unique opportunity to snap up a bargain.
The ladies of
Leeloo
, who bring you the delightfully retro
Disband
exhibitions, are offering a very
limited 15% off artworks currently on show
in Melbourne. Everything is packing up and heading home this Sunday, so you only have until Saturday 28th Aug to stake your claim.
All you have to do is mention this blog post.
Check out the
Leeloo
website to buy online, or email directly.
I'm super proud of the three originals I created especially for the show. They are my usual digital
collage style, printed on calico and hand stitched
. They are a nice big size, so it was a
mammoth effort
getting these done. Themed around break-ups, these three artworks represent three different emotions common to break-ups. Each artwork has a
unique heart
to symbolize that emotion; shattered and broken, fiery and hot tempered & light and carefree - along with
custom created type
.
These are animated gifs of each piece (if you'd like to see each photo individually, check out my
Facebook
page or my
website gallery
):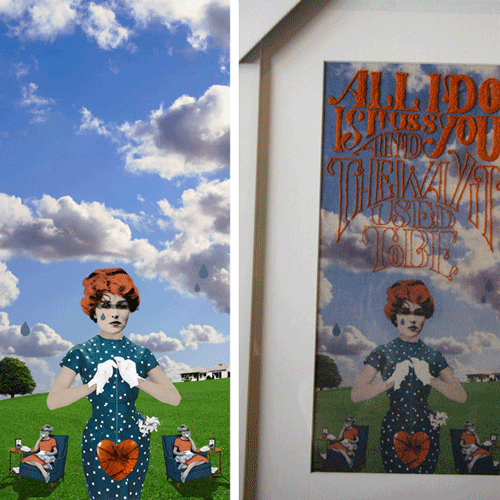 All I Do Is Miss You and the way it used to be
Digital collage on calico with hand stitching
Take a Good Look might be your last
Digital collage on calico with hand stitching
Is This The End? 'cos I'm alright with that
Digital collage on calico with hand stitching
Framed:

34 x 54 cm
Remember - just mention this post (or Facebook/Twitter) when you make your 15% off purchase!